Summer is getting closer, and decks are wonderful places to spend time outdoors. We have built many of them, mostly using redwood or cedar, and sometimes using composite material or hardwood.
Just a few years ago, we crafted a curved ipe deck that became a true labor of love and one of our flagship projects. The structure underneath was made out of pressure-treated lumber (referred to in the trades as 'PT'), and the decking material was 5/4″x6″ ipe. This deck is roughly 45 feet long and slightly over 12 feet wide at its widest point.
We will share the sequence of events of this project from start to finish, with as many juicy details as I can dust off, not to mention plenty of photos. Remodel Blog encourages comments and questions, as always.
Deck Design
Our clients had a team of professionals to tackle their project:
A landscape designer who shaped the deck, flagstone patio, plants and irrigation;
An architect who prepared drawings as part of the building permit application;
Structural and soils engineers who provided footing and framing details;
My company's crew of carpenters, electricians and plumbers; and
A landscape contractor
During the deck design phase, the owners were quite busy deciding on many details, including what kind of decking material to use. There are a huge number of composite materials available, but most of them have ugly side effects that do not become visible until later. Fading colors, incompatibility with certain plastics and rubbers (outdoor furniture, plant pots, and garden hoses), mold, and deformation are just a few examples. If you are interested in a composite deck, make sure you do your homework and check it twice.
Ipe Decking
In the end, the clients decided on 5/4" (meaning a full one inch thick) Iron Woods ipe. Iron Woods ipe is a particular 'brand' of ipe that received high ratings from Consumer Reports magazine. Also known as Brazilian walnut, this is an extremely dense material, fire-resistant, very heavy, and at times challenging to work with. Ipe requires special preparation and installation methods, and definitely takes more time to install than softwoods such as cedar or redwood.
Deck framing, Lay-out & Elevations
After receiving the building permit, it was time to get to work. The owners had already cleared away old brush and a tree. The first thing we did was to establish elevations with laser levels, lay out the framing structure and related footings. There was an existing foundation from an old deck that had been torn down a long time ago. We wanted our new lay-out to bypass this, so we could simply leave it in the ground rather than wasting time with jackhammers to remove it. The photo below shows several footing excavations, as well as a utility trench in the foreground. We buried a new water line in this one, and electrical and more water lines in another.
Concrete Footings
When considering footings, we don't recommend the use of so-called 'pier blocks' as structural supports. They are not as substantial as steel-reinforced concrete, and lack strength and connectors that improve your deck's integrity in case of an earthquake. This may not be a problem in your area, but in and around San Francisco we have to take this condition quite seriously.
The engineering specs called for 24″x24″x24″ footings. The pedestal of the footings had to be a minimum of 8″ above grade, making them at least 24 inches tall.
When you build forms, make sure you will be able to remove them later. Building inspectors rarely allow wood forms to be left in the ground, nor would you want to.
Consider coating the inside of the forms with form oil. This will make them easier to remove once the concrete has set. Use care not to get oil on rebar, as that will prevent concrete from sticking to the steel.
There also was a specific rebar design; see drawing detail. Generally all rebar and hardware connectors have to be in place prior to inspection. So-called 'wet-set' installation — when brackets etc are set at the same time concrete is poured — is generally not allowed. Depending on your specific design, rebar is often required to be connected to whatever hardware that's called for, and a 'wet-set' procedure makes that very difficult if not impossible.
Please keep in mind that this footing spec was created specifically for the location and conditions of our job site. On some projects this design will be overkill, while on others it may be insufficient.
Steel stakes were added later to keep form from moving. There was a fair amount of concrete to be poured, and we decided against trying to mix it onsite. Instead we arranged for a cement truck and a concrete pumping contractor to fill the excavated footings. We like using a vibrator to get rid of any air pockets in the cement. Be careful to not vibrate the cement too long or all the gravel will sink to the bottom.
When calculating how much concrete you will need, add roughly 10% extra to the total you come up with. This is because:
During excavation the holes often become larger than you intended;
Sometimes small cave-ins occur, requiring additional concrete;
A lot of concrete will stay in the pump truck's hose;
Concrete is cheap. Why take the risk of coming up short?
There are some handy concrete calculators to be found online, but double-check the math to make sure it's right. The day after the pour we stripped the forms and started installing 4×12 beams, plus the ledger board that's bolted against the wall.
Deck Framing
As an aside, we prefer to build decks to be free-standing; i.e., without being physically connected to the house. That's not always practical, and it means more footings. When a ledger is installed against a house, as it was in this case, make sure you use spacers (see Resources below) between the back of that board and whatever kind of surface it will be bolted against. These spacers greatly reduce the chances of rot and decay. Using galvanized sheet metal (GSM) 'Z' flashing that tucks under the siding's moisture barrier and sits on top of the ledger board is an excellent idea. Use only galvanized thru-bolts (as opposed to lag screws) with beefy washers to attach the ledger board. If your engineer allows lag screws, first drill pilot holes and fill them with silicone-based caulk. This will help prevent moisture from entering the framing. The engineer called for specific blocking, hardware, and methods to fastening the ledger to the existing framing.
In the meantime, Economy Lumber's truck showed up with the ipe delivery. We found a place where it would not be in blasting sun each day, and we made sure to use stickers in between each layer. These thin pieces of wood create a space between each layer of boards, allowing air circulation and giving ipe a chance to acclimate. This is an important step, so don't skip it and allow at least five days for this process.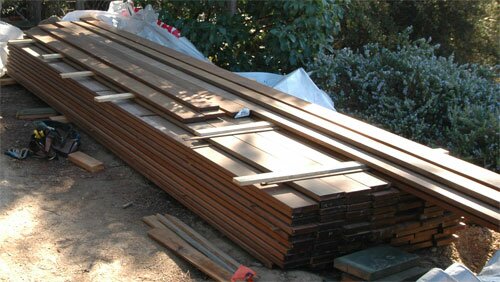 To prevent weeds from growing under the deck, the grade was covered with landscape fabric, followed by about three inches of gravel. A small tree was planned in the deck area, so pipes for irrigation and conduit for lighting were installed before we proceeded with installing deck joists. The owners also had an underground drainage system installed.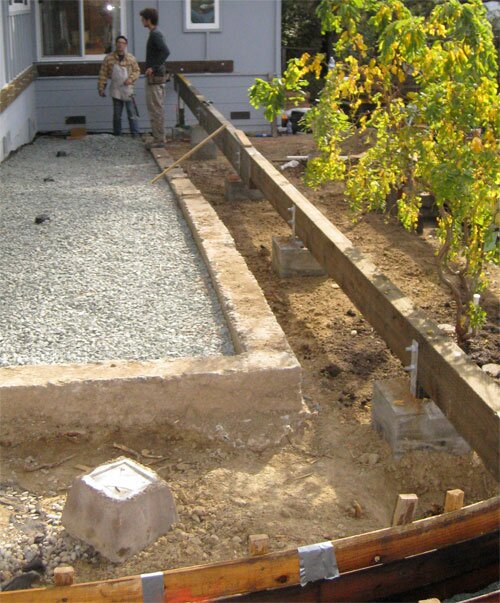 Placing Deck Joists
The joists were installed at 16″ OC (on center). Because the ipe boards were a full one inch thick we technically could have installed framing at 24″ OC, but to keep the decking as strong and stable as possible, we opted for a tighter span. Remember that when you frame with PT lumber you must use galvanized nails and hardware. The chemicals used to treat this lumber are quite corrosive, so regular steel would not last long. Remember, too, to treat all cut ends of this lumber with a preservative such as Copper Green. As an aside, not all framing hardware is available as galvanized. In those case we typically create a barrier between the hardware and lumber with a piece of bitumen tape. Details, details…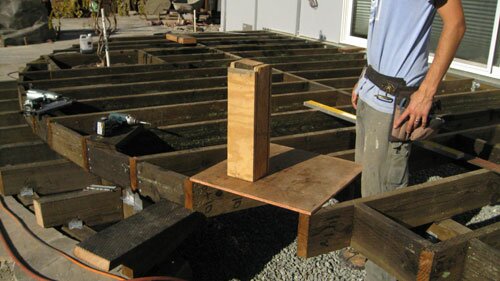 In the photo above, Josh helps to figure out placement of the railing posts. A cable system will be installed between them, and due to huge stress placed on the posts we want to make sure the posts are anchored to the framing as well as possible.
One other thing about PT you should be aware of is that it is sold in different colors using different preservatives. Read more about the fine details here.

To make the framing lumber last as long as possible, we added bitumen tape to the top of the joists, prior to installing the deck boards. Typically the gaps between them collect dirt as time goes by. Then the dirt gets wet during the winter, or when plants are watered or the deck is hosed off, leaving an almost constant humid collection of dirt. Over time this will begin to rot the framing, even the PT kind. Self-sealing bitumen tape, such as Grace Vycor, is relatively inexpensive and easy to apply.
Once all the blocking and joists are in, it is time to call the building inspector and get the framing segment approved and signed off.

Installing Deck Boards
The ends of ipe boards have a tendency to check, so it is recommended to immediately seal every end after it has been cut. We used a gel called AnchorSeal. Initially there were conversations with the client about possibly using a hidden fastener system, but nearly every reputable ipe supplier recommended using face screws at 16" o.c. to prevent cupping. There was not much difficulty with warped or twisted boards, and the usual 'board bender' tools worked fine.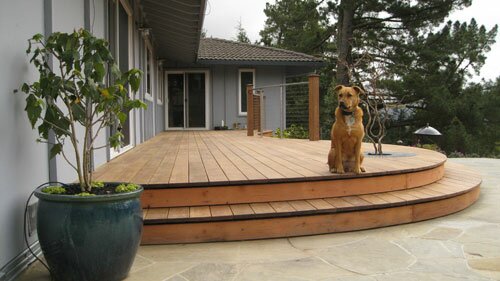 Using Stainless Steel Screws For Your Ipe Deck
To keep the boards from cupping, it was widely suggested to use two screws at 16" OC. The clients were not fond of the idea that all those screw heads would remain visible, so they asked that they be covered up with ipe plugs. While we always pre-drill screw holes — even in softwoods — this is doubly important with ipe. We installed over 1,800 stainless steel screws; stainless because this does not interact with the corrosive chemicals found in pressure treated lumber. Of course we also had to counter-sink the screw heads so there would be room for the ipe plugs.
Ipe Plugs
At first we thought about making our own plugs, but ipe is so hard this would probably take days, not to mention we'd burn through countless bits. I found a web site with reasonable prices, and before long a shipment arrived. The next question was how to keep the plugs in place. Nick suggested Titebond 3, applied with a Q-tip to the inside wall of the counter-sunk hole. If applied to the outside of the plug, most glue would get removed while inserting the plug into the board and leave glue on top of the deck board.

After inserting all 1,803 ipe plugs (I'm mentioning that number only for dramatic effect; it actually went faster than anticipated), we came back the next day with sharp chisels and trimmed all that stuck out above the deck board surface. Later we checked the entire deck and sanded where necessary.
Deck Ventilation
As you've probably read or heard, you want good ventilation under your deck. The right side of our deck sits nearly 4 feet above the ground, and with the installation of trellis material, adequate air movement is not an issue. However, on the left side of the deck there's little room under the step. To encourage air flow, we left a ¾" gap between the bottom of each step and the top of the riser. It looks just like a shadow line and is not as visually obvious as one might think. You can also paint the step or stair framing black to minimize its visibility. A gap was also left between the flagstone and riser mostly to prevent the riser from wicking water, and as an added bonus this gap helps with air circulation as well.
Curved Riser
Clearly ipe is too hard and dense to bend. While I've read few articles from carpenters who cut boards to create 1/4″ x 7″ strips that could be bent and glued to 2 additional strips to create a 3/4″ riser, this seemed not easy to do. For one thing, running ipe through a table saw in that manner must've left many saw blades smoking! We decided to buy several nearly clear 2x redwood boards, and milled those to the dimensions mentioned above. The first two layers were stapled and glued to the riser framing, and the last layer was glued, clamped, and received a few finish nails at joints. The color of the redwood complements that of the ipe, even when they age.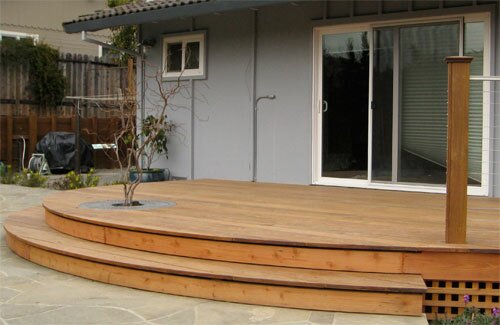 Railing Posts
The railing posts were pressured-treated 4x4s bolted as well as possible to joists and blocks. We then covered all four sides with ipe and installed deck boards around them. This looks far better than butting deck boards up against the 4×4 and setting the vertical post wrap boards on top of the deck boards. We used a combination of galvanized finish nails and stainless steel trim head screws to assemble the posts.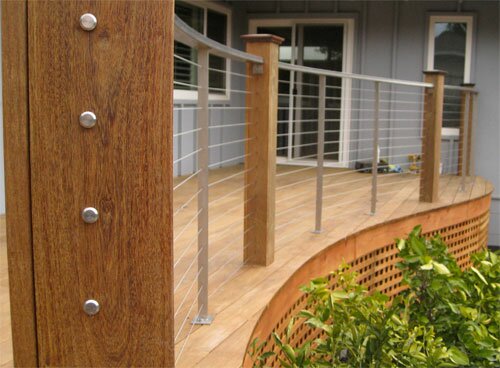 Curved Stainless Steel Railing
The railing and 'interim' steel posts were custom-made. The manufacturer supplied us with a steel template for the holes that had to be drilled in the wood posts. The cables were a challenge. We used a rigid wire to come up with a total length for each cable, and took that to the cable company. They fastened terminators at each end, and supplied us with nuts etc. Because building code requires that spacing can not be less than 4 inches between each cable, they had to be installed very tightly to minimize any slack.
The threaded terminators were located between the first post and the house, leaving very little room for tools and adjustments. Tightening the nuts was not always easy as some of the cables would start turning right along. While it was tempting to put a Vice Grip type of pliers on the cable, it would be easy to damage it. In the end the pliers were installed at the very end of the threaded terminators, taking care to preserve the threads so finish nuts could be installed. Installing these cables was a great opportunity to practice 'being Zen' at work!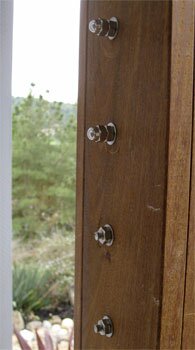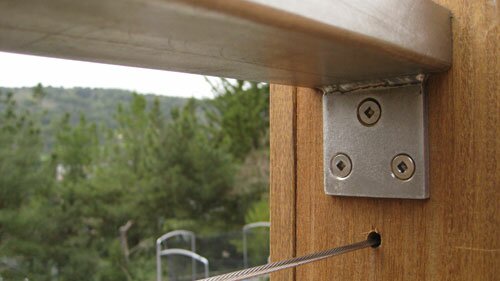 Resources
Iron Woods ipe
Decking materials review by Consumer Reports
Deck-To-Wall spacers
Deck construction by CVAN Builders
Hardscape, landscape, and deck design by Leigh Designs
Architecture by RS Donahue Architect
Engineering by Andersson Woodrow, Fairfax, CA
Special inspection by Dave Olnes PE Inc., Oakland, CA
See also our post on Second Story Deck Construction
Note: This article was first published on April 11, 2012. Due to a malware attack on our servers in 2013, a few posts were lost including this one. As there was no back-up available at that time, we have now reconstructed and republished this article. You may be able to view the original version by visiting the WayBackMachine and entering Remodelblog.net in the search box.
This post, including all text, photographs, and drawing, are protected by U.S. copyright laws. Please for permission before using all or parts of this post.