My construction company loves PLS laser levels. We own three of them: one PLS 2 and two PLS 5's. The PLS 2 was purchased used around 2010, and a label under the controls shows the date code as "2/07" so I assume that is when it was made.
Toward the end of 2012, the level stopped working. The laser lit up just fine, but the self-leveling function was out of whack. It gathered dust in my shop until last week, when I decided to get it fixed or replaced. It so happens that PLS headquarters are not far from me, so I figured I would drop by to see what could be done. The receptionist informed me that these older models do not get repaired (apparently only the rotary models can be serviced), but she mentioned I could exchange my old one for the latest version, and at an appreciable discount. That would still mean around $200 plus tax; I replied I would think about it.
Back at the shop, I decided to disassemble the level to see what was wrong. I figured the issue was more likely to be mechanical than electronic, so why not check under the hood?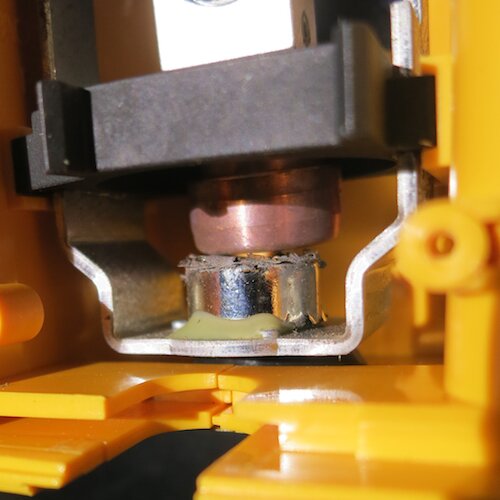 I was glad I did. After I disassembled it, the problem became visible immediately. With the level standing upright, you will see a round magnet at the bottom. I suppose it used to be covered entirely with a thin layer of shiny metal, and this layer had completely deteriorated at the top of the magnet. Now, the bottom of the pendulum (the copper-colored part), which sits right above the magnet with very little clearance, can no longer swing freely, as it is obstructed by metal fragments.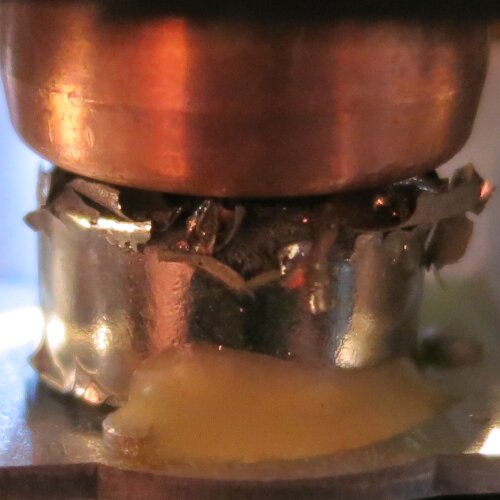 With a pair of Uncle Bill's tweezers and a thin-bladed knife, I removed as many of the fragments as I could. Keep in mind that the magnet is powerful, making removal with metal tools a little challenging. Remember, too, that these fragments do not mix with the electronics inside the unit. It might be a good idea to hold a vacuum cleaner nozzle right above, so fragments will be removed rather than dispersed. In any case, in less than twenty minutes the PLS 2 was back in business. Total cost: $6.49 for a specialty screwdriver.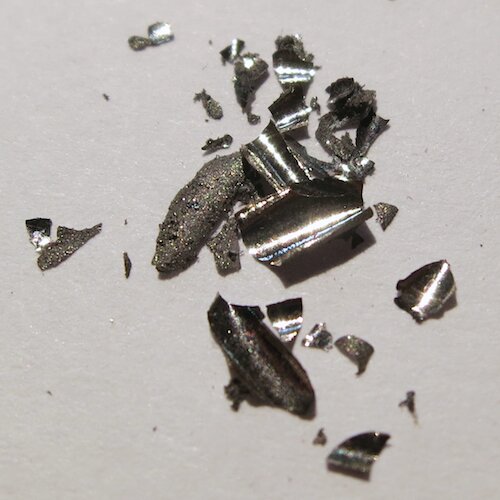 I believe this delamination problem is not a matter of wear and tear, but a defect in design and/or manufacturing. It is my impression that Pacific Laser Systems is a reputable company that cares about its customers. If your PSL 2 acts like what I described here, give them a call and see what they can do for you. Please leave a note below about the result.
If you decide to take the PSL apart:
Remove the back cover and take out the batteries
Use a T6x40 screwdriver to remove the four screws
Carefully pull the housing apart. Be mindful of three thin copper wires that connect one side of the housing to the other
Turn the unit so the front (where the lens is) faces down
Pull up and out the brass thread mount
With small needle-nosed pliers, gently pull the metal frame upwards. The black rubber gaskets are all that keep it in place.
As always, do this at your own risk. Your warranty, if you have one, will most likely be toast.